Below are some of the public publicity regarding me or my works. 
2013
Table of Contents (click icon to open/close)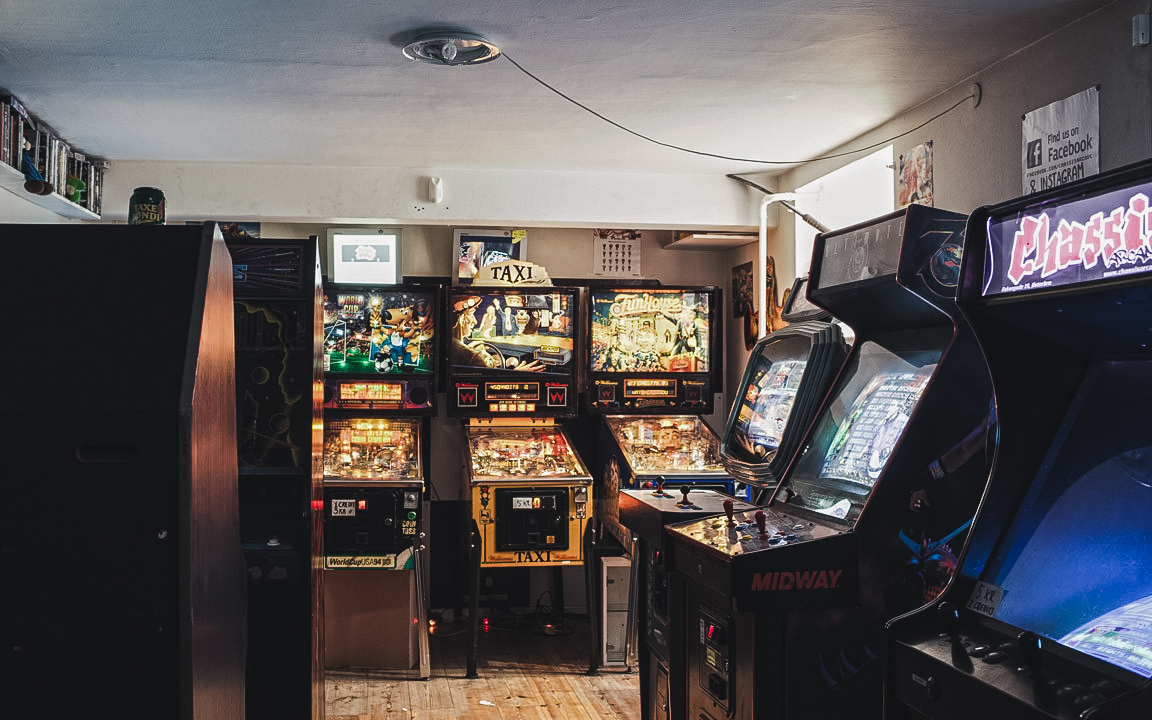 Blogpost
Chassis Arcade is not for nerds. Well, okay, nerds are welcome. So are kids, teenagers, senior citizens, girls, and people who have never played a video game in their lives (like me). Chassis Arcade is for everyone, and practically everyone seems to show up there at some point.
Co-owners Chrisstoffer and Julian founded the arcade nearly three years ago, after Chrisstoffer's initial enthusiasm for the idea led to Julian joining up. It all started on Jaegersborgade, which is where most neat things start in this city.
Crammed at the back of Æter, Chassis Arcade soon grew too big for the space. Their newer location on Fakesgade in Østerbro is harder to find but once you're there, you may never leave. I'll be the first to admit that I know nothing about video games, arcade games, or anything vaguely related, but I felt immediately at home sitting on the massive black sofa in the back room, chatting with Chrisstoffer.
"We're a non-profit," he explains, "so we're not looking to make money on the Arcade. We would like to eventually start paying ourselves a salary, though." He looks apologetic. After all, he muses, most NGO's still have paid secretariats. I agree but he still seems doubtful. 
A love for classic games like Donkey Kong and PacMan drives Chassis Arcade, but a sense of playfulness and creativity keeps it light. While some old-school Arcades seem to be hallowed ground- a place where only the experts can meet- Chassis Arcade insists that even the technologically-impaired can participate. "If you show up and you just want to watch someone else play pinball, we love that."
Chrisstoffer takes me through a brief history of Arcade culture. "At first, it was cool. You were young and you were wasting time. Your parents didn't want you there. It was rebellious. Then, when the home computer became the thing, gaming became nerdy. People were sitting at home alone becoming experts on these things, not engaging with other people. It became about coding and online forums."
Not necessarily down with the lingo, I ask Chrisstoffer what he means by "nerd." He thinks for a moment before answering, "a nerd is someone who is so much into their chosen field that they can't communicate about it with people who know less than they do." We laugh at this for a full minute. It is the best definition of "nerd" I've ever heard, and it's said with such sweetness, such lack of judgement, that it's hard to refute.
I'm at Arcade on a Wednesday morning. That evening, as every Wednesday evening, is "Onsdag i Arkaden," a party hosted at the Arcade which moves to a nearby bodega sometime in the night. Chrisstoffer and Julian provide a crate of beer, sodas and some crisps as well as the venue. It's a party based around gaming, shared interests, and a sense of gratitude. Gratitude because Chassis Arcade is able to continue based almost exclusively on the community that supports it, along with Chrisstoffer and Julian's hard work.
The weekly party has also begun producing a weekly video, shot and edited by Mik Dahl. Along with the short web-series, Chassis Arcade is currently the subject of an upcoming documentary called "Bit Brothers." You can check out the trailer here:
Hand-in-hand with their attitude of inclusiveness, Chassis Arcade is interested creating a shared space. If you don't feel like playing a game, but want somewhere to sit and read, head to Chassis Arcade's couch. Want to bring your own food and drink? That's fine, and you can also buy soda, beer and crisps on the premises. Did your friend cancel your plans for the night and you just want to get out of the apartment? Chassis Arcade's the place for you.
Chrisstoffer explains, "it's so hard to find somewhere you can go alone. It's not common in Copenhagen to go sit at a cafe alone. Maybe some people do, but that's not my experience. We wanted to have a space where you could feel comfortable no matter what, even if you're coming in without friends."
Come one, come all. Chassis Arcade is open for business and they want you (yes, you) to be part of the family.
Heads up: Chassis Arcade has moved again and is now called Bip Bip Bar.
→ BIP BIP BAR
The new address is:
Wesselsgade 4, Kælderen
2200 København N
Link:
https://www.scandinaviastandard.com/chassis-arcade/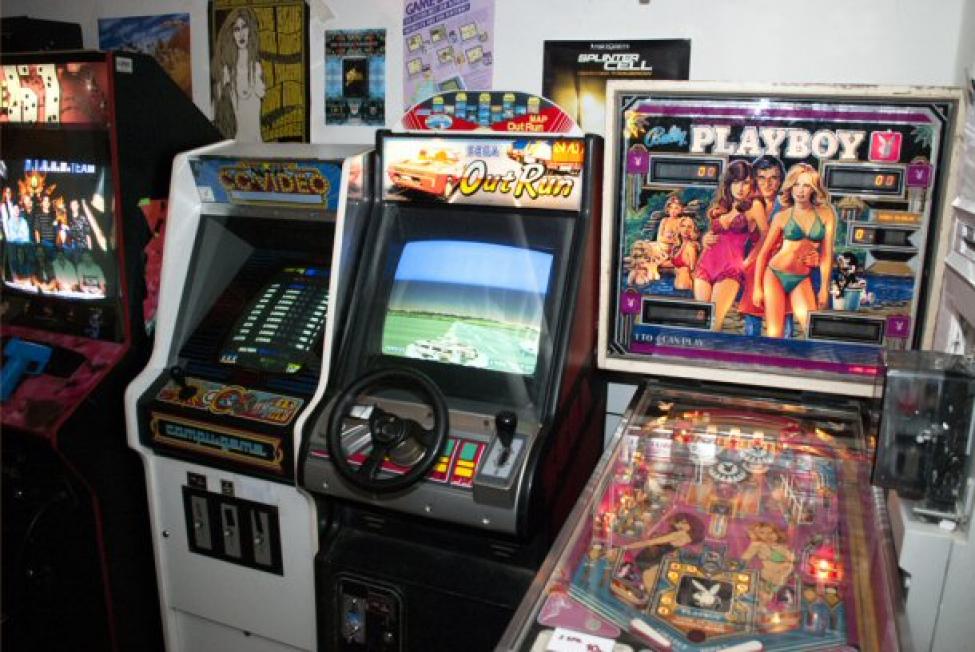 Donkey Kong lever!
I en tidslomme på Jægersborggade er videospillene fra de gyldne arkade-dage tilbage.
Det er ikke til at se det, hvis man ikke ved det. Men baglokalet i pladebutikken Æter i Jægersborggade 50 gemmer på en tidsmaskine, der tager dig med tilbage til 80'ernes grillbarer og spillehaller. Chassis Arcadeer Københavns første retrospillearkade og byder på ikke mindre end syv gamle arkadespil-maskiner, med klassiske titler som 'Donkey Kong' og '1943', og to flipper-maskiner.
Der er ikke mere plads end på en mindre kinagrill, men størrelsen ser Chrisstoffer Daniel Paluszewski, Julian Roland Andersen og Laust Palbo Nielsen, der står bag arkaden, som en fordel. På den måde kommer brugerne nemlig tættere på hinanden, når de spiller, og atmosfæren bliver om muligt endnu mere social.
Klientellet er alt lige fra hipsteren til familiefaren, der har taget børnene med for at vise, hvad han fik sin ungdom til at gå med. Chassis Arcade har haft besøg af både polterabend-grupper, folk på første date, og en mor, der inviterede sin søn derned, fordi han netop var kommet ind på drømmestudiet som spiludvikler.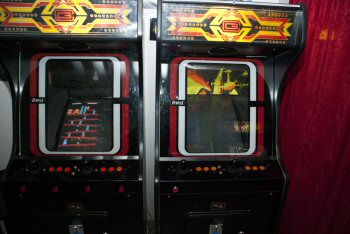 Piger også velkomne
"Vi ønsker at skabe en stemning som både byder velkommen til feststemte gæster og til gamers, som ønsker at sætte seriøse high-scores", siger drengene. Derudover er der naturligvis stamkunderne, der nyder at komme og spille i retroarkaden både på grund af fællesskabet og konkurrenceelementet.
"Mange kommer alene. Arkaden er et socialt sted, hvor du ikke behøver være social på forhånd, som når du for eksempel går på café, hvor det kan være svært at komme alene", siger Chrisstoffer.
Men det også er helt i orden udelukkende at komme for at game uden at være social. Og det er absolut ikke kun drenge, der besøger stedet. Overraskende mange piger finder vej til arkaden både alene og sammen med deres kærester.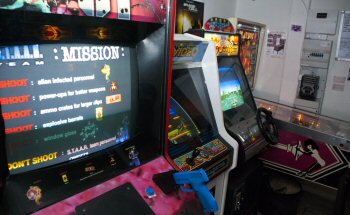 Ikke et museum
I 80'erne og 90'erne lukkede mange spillearkader ned, da folk begyndte at spille videospil hjemmefra i stedet for at opsøge spiloplevelsen i det offentlige rum. Men drengene bag Chassis Arcade mener stadig, at det sociale konkurrenceelement og fællesskabet, som fås i arkaden, er vigtigt for spillerne. Her mødes folk og snakker sammen mellem og efter spillene, og mange starter en aften i byen med at mødes til et par spil i retrospillehallen.
Drengene er enige om, at selvom man chatter med hinanden, når man spiller online, er det ikke det samme som at være i rum med andre, der deler passionen for spillene. Drømmen hos Chassis i Jægersborggade er, at arkadespillene igen bliver så udbredte, at de ikke kun bliver tænkt på som et nostalgisk indslag.
"Vi vil ikke have, at folk skal synes, at det er det gamle, men at det er det nye."
Hvis det står til Chassis, skal arkadespillene ikke stå på et museum og samle støv, men skal ud i Danmark og bruges af folk. Og noget tyder på, at interessen for spillene er ved at brede sig igen. På det seneste har Chassis udlånt to maskiner til hard rock-klubben Sin City i Kødbyen og er også ved at lave et samarbejde med Distortion-gadefestivalen om at låne et par af maskinerne ud.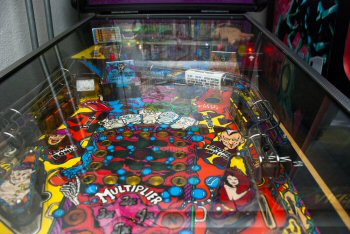 Har du 2 kr?
Det er ikke meget, man kan få for 2 kroner i dag, men hos Chassis Arcade er priserne holdt på et niveau, hvor alle skulle kunne være med, når de fleste af maskinerne koster en tokrone per spil.
"Vi ved godt, at vores drøm ikke gør os rige, men det er vigtigere for os, at folk har råd til et ekstra spil, end at vi tjener penge" siger drengene.
Hvis du kigger forbi retroarkaden lørdag formiddag, dumper du ind lige midt i den ugentlige Hangover VHS hygge. Hver lørdag fra klokken 11 kan tømmermændsramte kunder nemlig komme forbi og stene til en gammel karate eller sci-fi film, som bliver afspillet på ægte VHS-bånd. Desuden arrangeres månedlige turneringer på både pinball- (med VM-point) og arkade-maskinerne, som du kan tilmelde dig via arkadens Facebook-side.
Foreløbig har Chassis Arcade åbent fra tirsdag til lørdag, men det er planen, at søndag inden længe vil blive træningsaften, hvor man for et mindre beløb kan spille frit på maskinerne, mens man udveksler tricks til at opnå en højere score.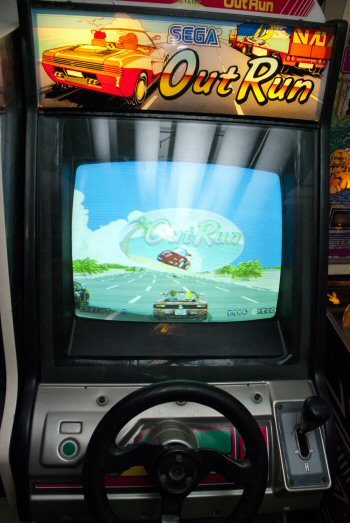 Link: https://www.magasinetkbh.dk/indhold/chassis-arcade-spillehal-jægersborggade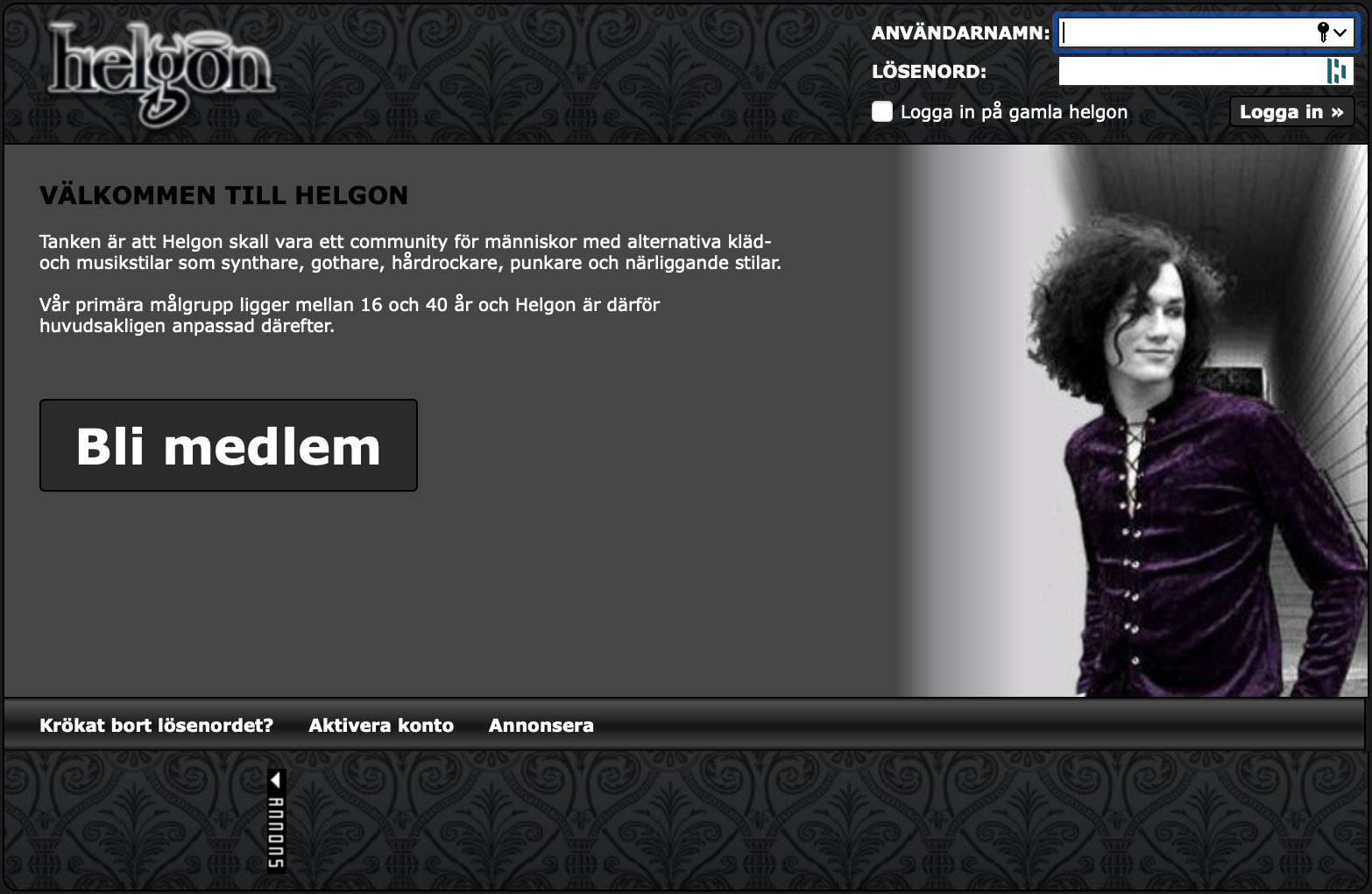 Originally modeling for a Danish webshop that sold alternative clothings and accessory.
Was later asked by the Swedish community Helgon.se if the could use the picture as one of the frompage pictures before users logged in or registered.
The site was very popular in the Myspace time and before Facebook. I believe the picture is no longer used as the probably have updated since then.
Both photographer & owner of webshop is no longer alive. R.I.P.
Link: https://helgon.se
List of appearances in no specific order:
Rundfunk TV2, goth/style
Rulletrappe